When I did my first test run of this blog I was thoroughly underwhelmed with 'Back To The 80's', the Aqua comeback song. I decided to remind myself what I loved about the Danish band and count down the five best things we have them to thank for. So, if you will, here's one I made earlier…
1. Aqua – Aquarium
The best thing we have Aqua to thank for is obviously their debut album 'Aquarium'. It stands out from its bubblegum peers because not only does it have just that, perfect bubblegum pop, it also leaves room for 'proper' pop. Deliciously cheesy tracks as 'Doctor Jones' and 'My Oh My' stand alongside, for example, one of the ultimate pop heartaches of all time, 'Turn Back Time'.
2. Lene – Play With Me
An album that proves that 'lead singer gone solo' can deliver the goods. From naughty first single 'It's Your Duty', over dark 5 A.M. pop songs 'Bad Coffee Day' and 'Scream' to the roar-sampling 'Bite You'. From the just-the-right-level-of-rockiness seductions that are 'Virgin Superstar' and 'Play With Me', over the slightly out of place 'Pretty Young Thing' to 'Here We Go' and 'We Wanna Party' which would later find fame as Girls Aloud anthems. This album is everything a pop solo debut should be.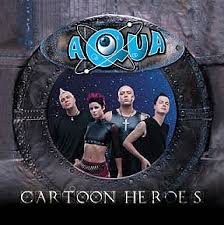 3. Aqua – Cartoon Heroes
'Cartoon Heroes' is easily the best track on Aqua's sophomore album. A final moment of bubblegum genius that unfortunately didn't translate into an album of the same quality. Although we must admit 'Aquarius' also brought us the touching simplicity of the ballad of the same name.
4. Copycat Bands
Aqua's mega success opened the gates for a string of similar pop groups. Squeaky voiced girl + grumbling guy(s) = $ucce$$. Though no one ever managed to do better than Aqua we did enjoy Toy-Box' tales of 'Tarzan And Jane' and 'Best Friend'. ("It tickles in my tummy, he's so yummy yummy, hey, you should get a best friend too!") There was also Daze, a group that wanted to be 'Together Forever' as your Tamagotchi, while being in need of a 'Superhero Lover'. And maybe even Cartoons owe Aqua for enabling them to unleash 'Doodah' and 'Witch Doctor' upon the world.
5. The Eurovision Song Contest 2001 Interval Performance
When Denmark hosted the 2001 Eurovision Song Contest it used the voting interval as an opportunity to showcase their biggest pop export to Europe. Alongside Safri Duo, of 'Played-A-Live (The Bongo Song)' fame, Aqua performed a medley of their greatest hits. This beats any kind of 'national dance' interval anyday. Even if only to hear Barbie tell Ken to fuck off.